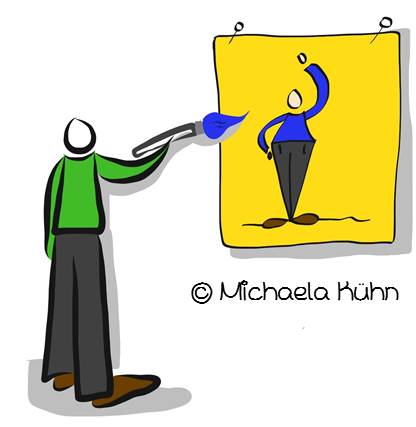 Any results, ideas and discussions presented visually, is my personal passion.

My passions can be organized:
Which pins are best for me - will make no surreptitious
What font is the most authentic - must fit me
How to paint hands - I still can not
What symbols do I need - develop a symbolic language. I have one already
How do I use colors - I like it colorful
On what I paint - Cards, A4 and flipcharts
What do I do with the images - keep them
How do I train my skills - many, many courses to get ideas
What can you book?
Graphic Recording: The picture of your meeting or event
Graphic facilitation: The documentation for your internal processes
Visual Coach: You and I in a thought process or exchange Passions can infect.
Would you like to be infected by the virus of visualization, then contact me info@michaela-kuehn.de or call me or Ms. Johnson at: ++49 5235 503 284